Sale!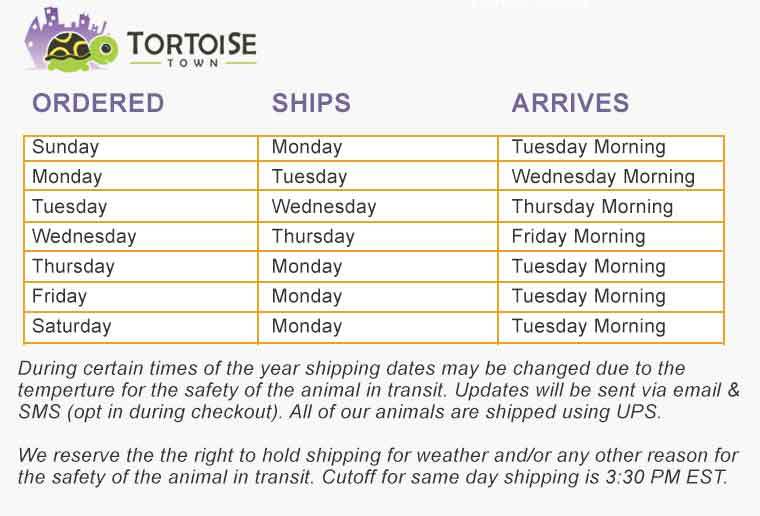 East African Serrated Side-Necked Turtle
$54.95
The east african serrated side-necked turtle only reaches to about 7 inches in length in adulthood. When given proper care, the east african serrated side-necked turtle for sale can live up to 50 years in captivity. They are best kept by advanced turtle keepers, but are a generally hardy species. They enjoy eating hardy greens such as spinach and romaine, but also enjoy earthworms, snails, clams, fish and aquatic insects once in a while.
When choosing an east african serrated side-necked turtle for sale it is important that you purchase a healthy animal from an experienced east african serrated side-necked turtle breeder. Captive bred turtles for sale should always be purchased over a wild caught turtle for sale when possible.  Our stock of east african serrated side-necked turtles for sale are top notch and ready to ship to you via FedEx Overnight in heated or cooled, insulated shipping boxes and come with our live arrival and full 7 day health guarantee.  One shipping charge covers up to 4 turtles for sale.
Remember when searching for any tortoises for sale, including a new baby tortoise for sale, tortoise town is your source for the best tortoise for sale , baby tortoises for sale , baby turtles for sale, and adult turtles for sale of any turtle store anywhere.  If you are interested in tortoise care, please visit our care section.
Out of stock
Enter your email to win a $25.00 TortoiseTown Gift Card!
About Tortoise Town
Tortoise Town is a family owned and operated turtle and tortoise farm that is proud to sell ONLY healthy captive bred tortoises, box turtles, and aquatic turtles, chameleons, geckos, and iguanas for sale.
Buy with confidence that your tortoise or box turtle will arrive overnight via UPS or FedEx, well packaged and insulated with heat or cold packs added as needed to provide a safe reliable trip from our tortoise farm to your home or business. We ship year-round to all states in all temperatures!