small tortoise for sale
Tortoise town has the best selection of hand-raised tiny tortoises for sale.  We've got the smallest tortoises species for sale (smallest tortoise breeds for sale) in the world, all 100% captive bred. Our baby tortoise for sale selection is second to NONE, and the quality of our hand raised tortoise hatchlings for sale is as good as it gets!
tiny tortoise for sale
Tortoise town is proud to have a real biologist on-site at our facility.  We go above and beyond any tortoise breeder in the country to provide the best tortoises for sale anywhere.  With over 25 species of tortoise for sale, our selection is second to none.
Small tortoise species
Most importantly, all of our healthy baby tortoises for sale online come with our LIVE ARRIVAL and health guarantee.  All of our captive bred tortoises are raised in our state of the art facility.  Tortoise town works with over 25 species of all sizes of turtles and tortoise offering the largest variety in the USA.  Searching for a small pet tortoise can be fun, typically you are shopping for one of these species.
small tortoise breeds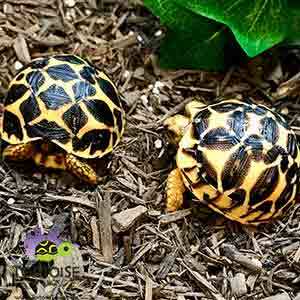 Most notably, Indian Star Tortoise hatchlings for sale have a shell just a few cm (just over an inch) long. As adults, females can be 25 cm (10 inches) long, while males are usually under 20 cm (8 inches) long. Most of the growth happens in the first 10 years.
Indian Star Tortoise hatchlings for sale lifespan
They should normally live for anywhere from 50-90 years, but the current record is 65 years in their natural habitat.  Indian Star tortoises are one of the most sought-after tiny tortoise for sale of all the small tortoise breeds.
Russian tortoise for sale
A popular tiny tortoise for sale, Russian tortoises are one of the most readily available tortoise species. They are small, making them easy for most people with limited space to keep. They are also feisty, eager to eat and more active than some other tortoises. When allowed to burrow, a Russian tortoise will have one of the highest tolerances for temperature extremes. They are one of the few species that can be kept outdoors year-round in many areas.
Small pet tortoise breeds
People who visit pet smart or pet co looking for a small pet tortoise often leave with a wild caught russian adult.  Be careful.  Small pet tortoise breeds do include Russian but you should always buy a captive bred baby tortoise over a wild caught adult from the pet shop.
These factors make Russian tortoises attractive for new tortoise keepers and a fun tortoise for seasoned veterans.  Lastly, this is probably the most popular miniature tortoise for sale, (tiny tortoise for sale) of all smallest tortoise breeds.
Western Hermann's Tortoise for sale
We have some beautiful baby Tuscany Locale Western Hermann'stortoises for sale.  These little hatchlings are super active, vibrantly colored baby tortoises.  Approx 2.25-2.5″ in size.  These Western Hermann's tortoises are from the Tuscany locale, originated from the Tuscany area of Italy, and therefore called "Tuscan Locale".
Tortoises that stay small
The Tuscan locale has beautiful bright yellowish green and dark black pattern, making them some of our favorite Hermann's tortoises for sale.  Western Hermann's, smaller tortoises for sale, are known for being more colorful of the 2 species of Hermann's tortoise.
Small tortoise breeds
These small tortoises for sale stay much smaller, only growing 4.5-6″ at full maturity making them absolutely fantastic smaller tortoises for sale.  The Western Hermann's tortoise care sheet will provide you with a great amount of data regarding the ease of caring for these great tiny tortoises for sale.
100% Captive bred reptiles for sale online
Other tortoises for sale from our sister store, CB reptile include geckos for sale, chameleons for sale, iguanas for sale and more.