Description
Russian Tortoise for sale
baby Russian tortoise for sale
Above all, one of the most popular small tortoises, baby Russian tortoises are one of the most readily available tortoise species. They are small, making them easy for most people with limited space to keep. Also noteworthy, Russians are feisty, eager to eat and more active than some other tortoises.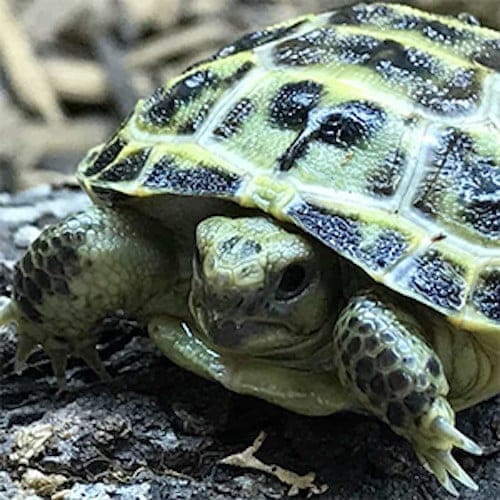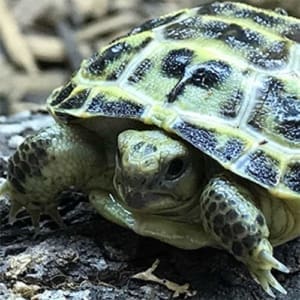 Also, when allowed to burrow, a Russian tortoise will have one of the highest tolerances for temperature extremes. Lastly, Russian tortoises for sale are one of the few species that can be kept outdoors in most areas once mature.  Depending on your average seasonal temperatures, Russians may be kept outside, year round. Most importantly, these factors make Russian tortoises attractive for new tortoise keepers.  Russians are also a fun tortoise for seasoned veterans.  There aren't many things cuter than a baby Russian tortoise!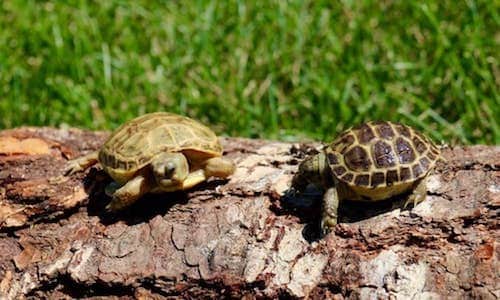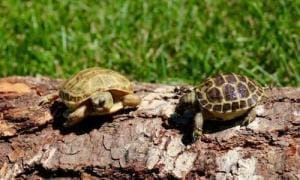 Russian tortoise care
Russian tortoises are fairly easy to care for, however, do your homework before you buy a Russian tortoise!  Having the proper habitat, substrate, lighting, heating, and hides is the key to success.
Russian tortoise UVB Lighting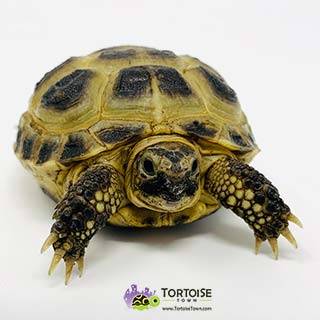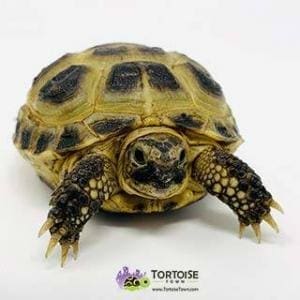 Providing your baby tortoise with UVB lighting is key to raising a healthy Russian tortoise hatchling for sale.  UVB should be provided via a t5 HO tube style lamp.  Using a 10% or 10.0 UVB lamp is fine so long as your light is around 15-20″ from the shell of the tortoise.  A 12% lamp is even better however, it needs to be mounted 24″ above the tortoises and will have a great output and coverage area.  We recommend using an Arcadia brand tortoise UVB light.
Baby Russian tortoise for sale – Humidity
Humidity is a big deal for any species of baby tortoise for sale, and the baby Russian tortoise is no different.  Keep the humidity in the range of 65-70% for yearlings to juveniles, 50-60% for adults, and as high as 75-80% for captive bred Russian tortoise hatchlings.  Using a reptile fogger will help keep the humidity up.  Some people put it on the same timer as the lights, keep it filled at night.  Because it is tied to the same timer, the fogger can simulate morning dew each morning when it comes on with the UVB lighting and the hot spot.
baby Russian tortoise Lifespan
Baby Russian tortoises live a long time! Did you know a Russian tortoise can live 50-100 years! That is correct, 100 years!  That means you need to be prepared to own your tortoise for your entire life, and even maybe give it to a younger family member when you get old!
Russian tortoise food & diet
Feeding your new baby Russian tortoise for sale a varied diet is the best way to go.  Here at the tortoise town tortoise farm, we offer a wide variety of high quality fresh greens and veggies.  Using Romaine, Collard Greens, Mustard Greens, Endive, Squash, Zucchini, Bell Peppers, Kale, Shredded Carrots, the occasional tomato, we make a daily "chopped salad".  Also, to supplement more Vitamin D3 during the winter with our indoor tortoise habitats, we use Mazuri tortoise chow.  Tortoise chow works best when soaked in water and softened.  Some people also add their supplements right to the water so it is soaked up with the tortoise pellets.
Russian tortoise price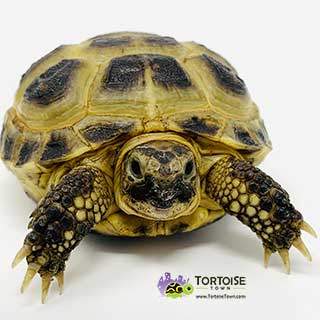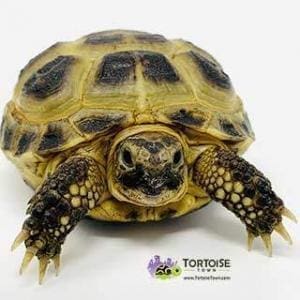 The Russian tortoise price is considered middle of the road.  They are small tortoises so they do not have a lot of eggs / babies.  Russian tortoise cost is assumed to be 300 and up.  Supplements should be provided 2-3 times weekly, like every other feeding works.  We recommend using a high quality calcium with Vitamin D3, like reptocal, sold here at the tortoise store.  Lastly, a vitamin supplement like Vionate can be added to the calcium powder in a ratio of 1 to 1, or 50:50.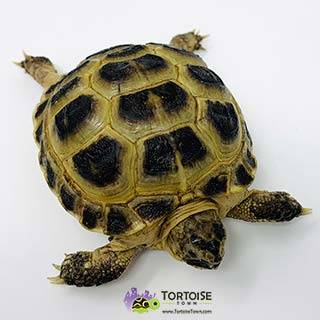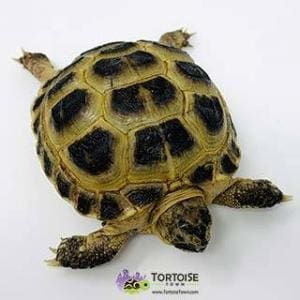 Baby Russian tortoise habitat temperature
Temperature is important for both baby Russian tortoise hatchlings for sale, as well as juvenile Russian tortoise for sale and adults.  A median temperature of 82 degrees during the day, with a hot spot of 90 Degrees works best.  During the nighttime, temperatures may drop as low as 75 degrees for babies, or 65 degrees for adults.  When temperatures drop, you will probably find, or "not be able to find" your baby Russian tortoise as they burrow under the substrate.  Speaking of substrate, let's talk about it!
Baby Russian tortoise care – Substrate
Substrate can be anything that has no additives or pesticides or fertilizers.  Using a substrate like organic potting mix works great when mixed with forest floor, sold here.  Forest floor is a cypress mulch and absorbs odor and works quite well.  Providing a potting or soil mix of 2-4″ of depth also will help your tortoise dig down properly and thermoregulate.
Captive bred Russian tortoise for sale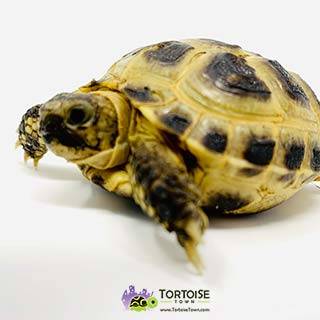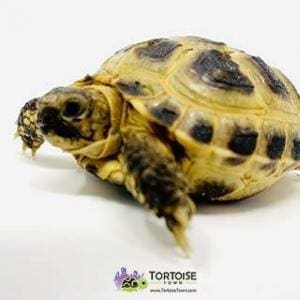 Captive Bred Russian tortoise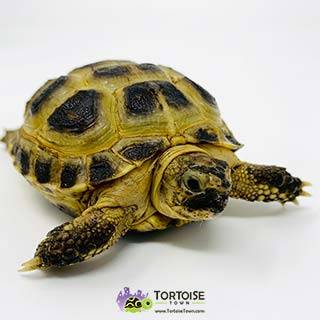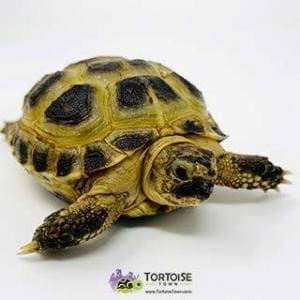 Be Careful! Most baby Russian tortoises for sale are imported into the United States. In contrast to the number of imported tortoises, captive bred Russian tortoise availability is relatively low.  However, here at tortoise town, we produce around 150 baby Russian tortoise for sale each season.  Therefore, you should assume that most adult or subadult Russian tortoises for sale are wild-caught (imported). Captive-bred babies are rarely raised to adult size and sold at low prices.
baby Russian tortoise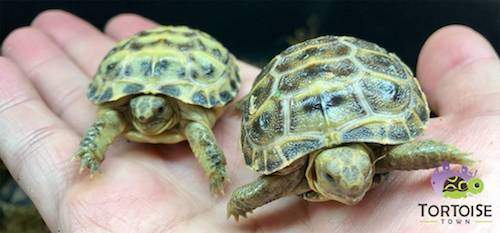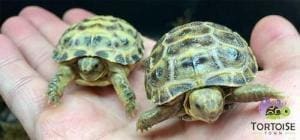 Because wild-caught tortoises are imported for very low prices, they are sold cheaper at pet stores.  Captive bred babies will always be 2-3 times the price that these imported Russian tortoises sell for.  So if you see Russian torts under $200.00 you can almost guarantee they are older, wild caught specimens and should be avoided at all costs.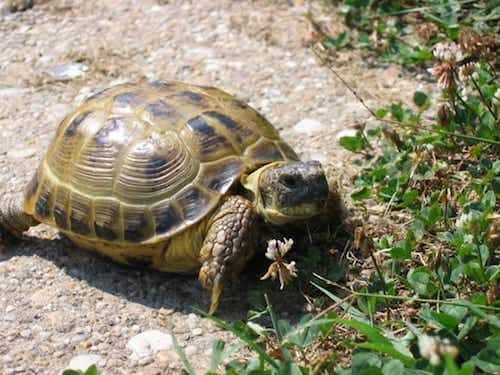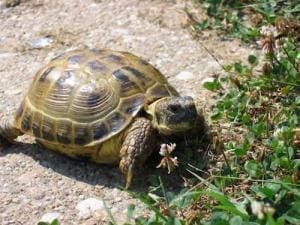 We offer various ages/sizes for sale available thru the drop-down shopping cart options.  Therefore offer various sixes of Russian tortoise hatchlings for sale.  Our sizes include well-started baby Russian tortoises for sale (recommended over hatchlings). Also, we offer yearlings and juvenile Russian tortoises.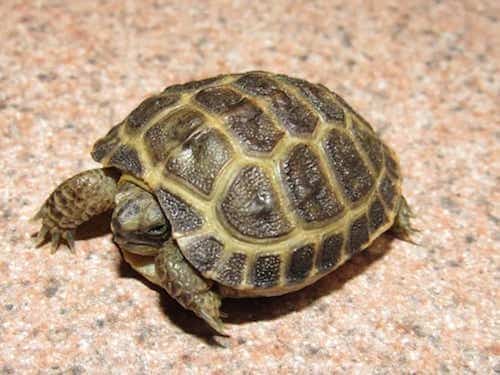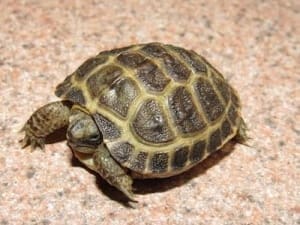 Captive Bred Russian tortoise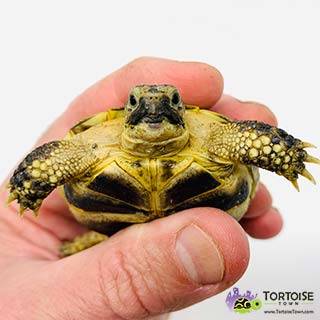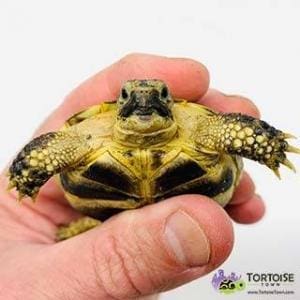 Russian tortoises for sale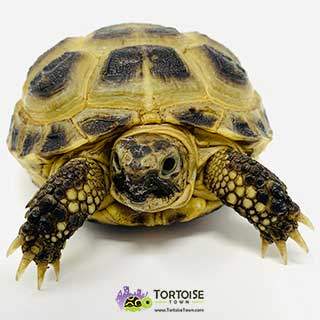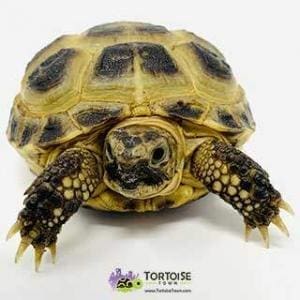 Our captive bred Russian tortoises are not to be compared with the wild-caught animals sold at the pet store.  At tortoise town, our focus is captive breeding.  In addition, all of our baby Russian tortoise for sale are just about as cute as it gets and have been bred from top Russian tortoise lines.  Because we only use high quality animals in our breeding programs, we offer the nicest baby Russians anywhere.  Russian tortoises from Tortoise Town are sure to stop you in your tracks with their cuteness!  Most importantly, Tortoise Town prides ourselves in saying that all of our tortoises including baby Russian tortoises for sale as being as good as it gets.