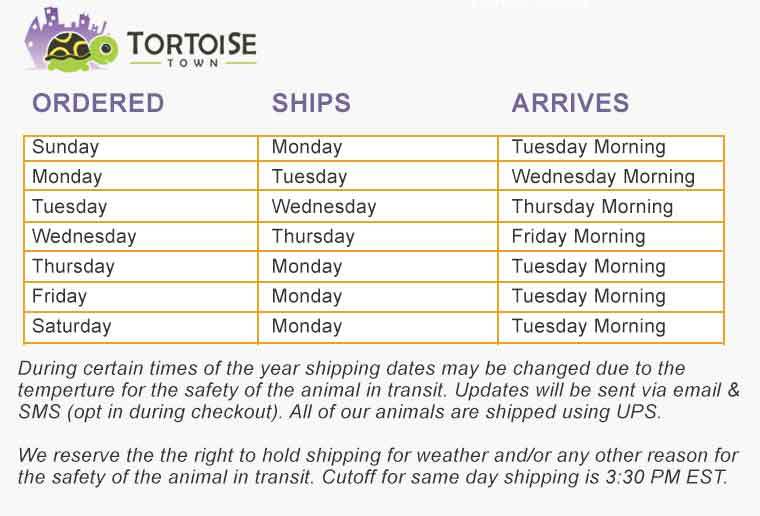 Sri Lankan Star Tortoise for sale
$569.00 – $3,995.00
These beautiful captive bred Sri Lankan Star Tortoise hatchlings are eating like champs.  The Sri Lankan star is a beautiful addition to anyone's exotic tortoise collection.  Bigger than the Indian Star, Smaller then the Burmese, the Sri Lankan is a gorgeous tortoise, and brightens up anyones collection.  Our Sri Lankan Star hatchlings have fantastic bright yellow body, head and shell highlights contrasted over deep brown/blacks, approximately 1.25-1.5 inches.  When choosing a Sri Lankan Star baby tortoise for sale, please make sure you are buying from an experienced tortoise breeder and keeper! We guarantee to have the highest quality baby Sri Lankan Star tortoises for sale.  We pride ourselves on selling only top notch tortoises, ready to ship to you via UPS/FedEx Overnight.  One shipping charge covers up to 3 tortoises.
SKU:

N/A
Categories: burmese star tortoise for sale, indian star tortoise for sale, Medium Sized tortoises for sale, sri lankan star tortoise, sri lankan star tortoise for sale, Tortoises For Sale (All)
Tags: baby sri lankan star tortoise, but sri lankan star tortoise, online tortoise shop, pet tortoise for sale, Sri Lankan Star Tortoise, sri lankan star tortoise pet, Srik Lankan Star Tortoise for sale, star tortoise for sale, where to buy sri lankan star tortoise
Additional information
| | |
| --- | --- |
| size / age | cb hatchling, cb well started baby, cb yearling, cb young adult |
Enter your email to win a $25.00 TortoiseTown Gift Card!
About Tortoise Town
TortoiseTown.com is a family owned and operated business that is proud to sell ONLY healthy captive bred tortoises, box turtles, and aquatic turtles, chameleons, geckos, and iguanas for sale. Buy with confidence that your tortoise or box turtle will arrive overnight via UPS or FedEx, well packaged and insulated with heat or cold packs added as needed to provide a safe reliable trip from our tortoise farm to your home or business. We ship year-round to all states in all temperatures!
Tortoise Town Reviews

I ordered a baby leopard tortoise, as well as a baby Sulcata tortoise hatchling for sale online last month from TT.  I was emailed tracking that afternoon and they arrived promptly the following morning.  Both tortoises are very healthy and active.  I searched for quite some time for tortoise breeders and tortoise farms, and I am… read more Tortoise Town Reviews "Perfect baby Sulcata tortoise hatchling!"