Description
Indian Star tortoise
Indian Star tortoises for sale are one of the more popular, small tortoises for sale.  Of all the small tortoise species available to purchase, some would say that the Indian Star is the most attractive.  Indian Star tortoises are fairly easy to care for, so long as you invest the time to educate yourself about proper Indian Star tortoise care.  We highly recommend you check out our extensive and FREE Indian star tortoise care sheets, available throughout our website.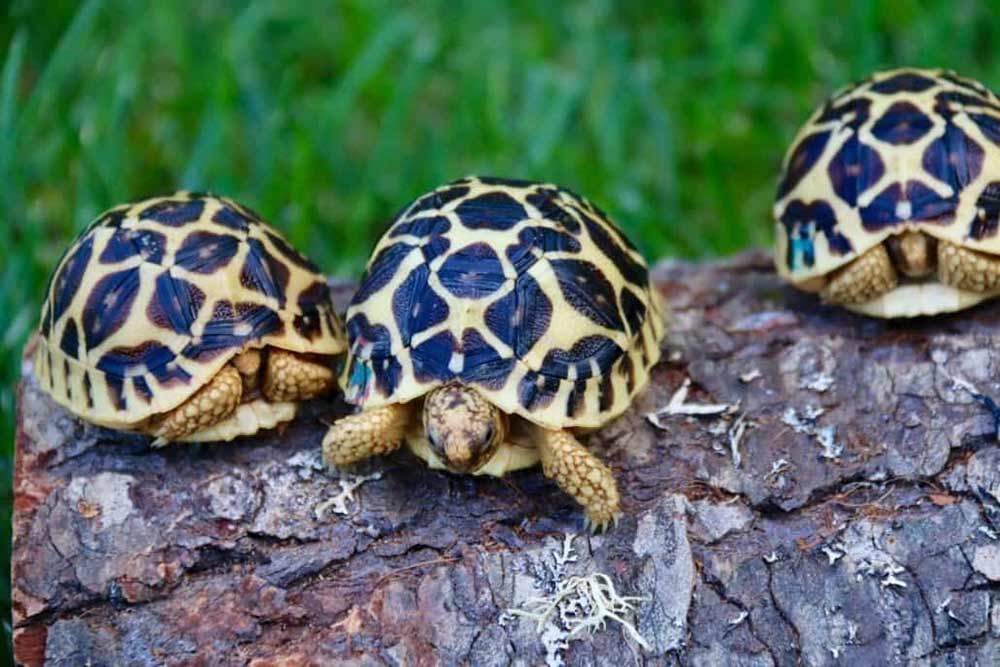 Indian Star Tortoise hatchlings
Baby Indian Star tortoises are available for sale online, from time to time are medium-high prices.  Because an Indian Star tortoise for sale is a small species of tortoise, they only lay a couple of eggs, which drives their price up over larger species of tortoise, and giant tortoises for sale.
Baby Indian Star tortoise for sale
Baby Indian star tortoises are as cute as can be, but they need proper care to thrive.  When setting up for a baby Indian Star tortoise the most important thing is humidity.  Our biologist advises that high humidity and low air flow are the key to success. With limited air flow, and high humidity, baby Indian Star tortoises will absolutely thrive.  It was a common misconception years ago, that most species of Star tortoise, including the Indian, needed very dry air.  While that may be the case in well established larger adults, we have found that Indian star tortoise babies need it to be humid.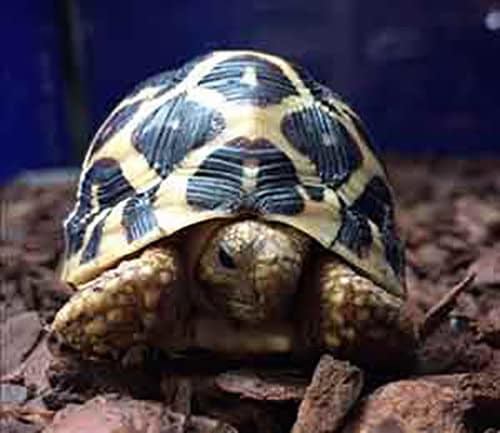 Baby Indian Star tortoises love humid, low movement air
Low movement, high humidity air with humidity around 75% is how we keep our baby Indian Star tortoise groups.  It allows them to grow evenly, with very smooth shells.  Humid air with low movement and warm ambient temperature really does seem to allow them to grow so very quickly.  At the same time, their shells remain and grow smooth like a bowling ball.
Baby Indian Star tortoise diet and Star tortoise food list
Variety is the spice of life they say, and it certainly is the most important part of what to feed your baby Indian star tortoise.  Feeding your new Indian star tortoise hatchling a wide variety of high-quality fresh greens and veggies is key to success.  Indians really do love a variety of food, and we here at tortoise town always feed a wide variety of fresh greens.  Tortoise town prepares our baby tortoise food daily by chopping a wide variety of greens.  Greens we feed our baby tortoise include kale, romaine, collard greens, mustard greens, radicchio, various lettuces, dandelion.
We also chop up some yellow squash and chop up some carrots in our blender and spread them across our tortoise salad as we call it.  Soaking mazuri tortoise chow in water until soft, and tossing it with the greens is HIGHLY recommended.  Using Mazuri to feed your little star tortoise also will supplement the lack of real UVB during the indoor months.  When shopping for a new baby tortoise for sale, be sure to choose Tortoise Town!