Description
Eastern Hermanns tortoise for sale
The Hermanns tortoise for sale is one of the most popular species of tortoise for sale in the world.  Hermann's tortoises are small, super cute, and inquisitive.  Baby Hermann's tortoise are unlike many other species of tortoises as they are not one bit shy.  It is common for a baby Hermann tortoise to eat from your hand, without any training necessary.  We have baby Hermann's tortoise for sale here that have eaten from our hands starting from hatch!  Both the Eastern and Western Hermann's tortoise make excellent additions to any reptile family, however, there are some discernible differences.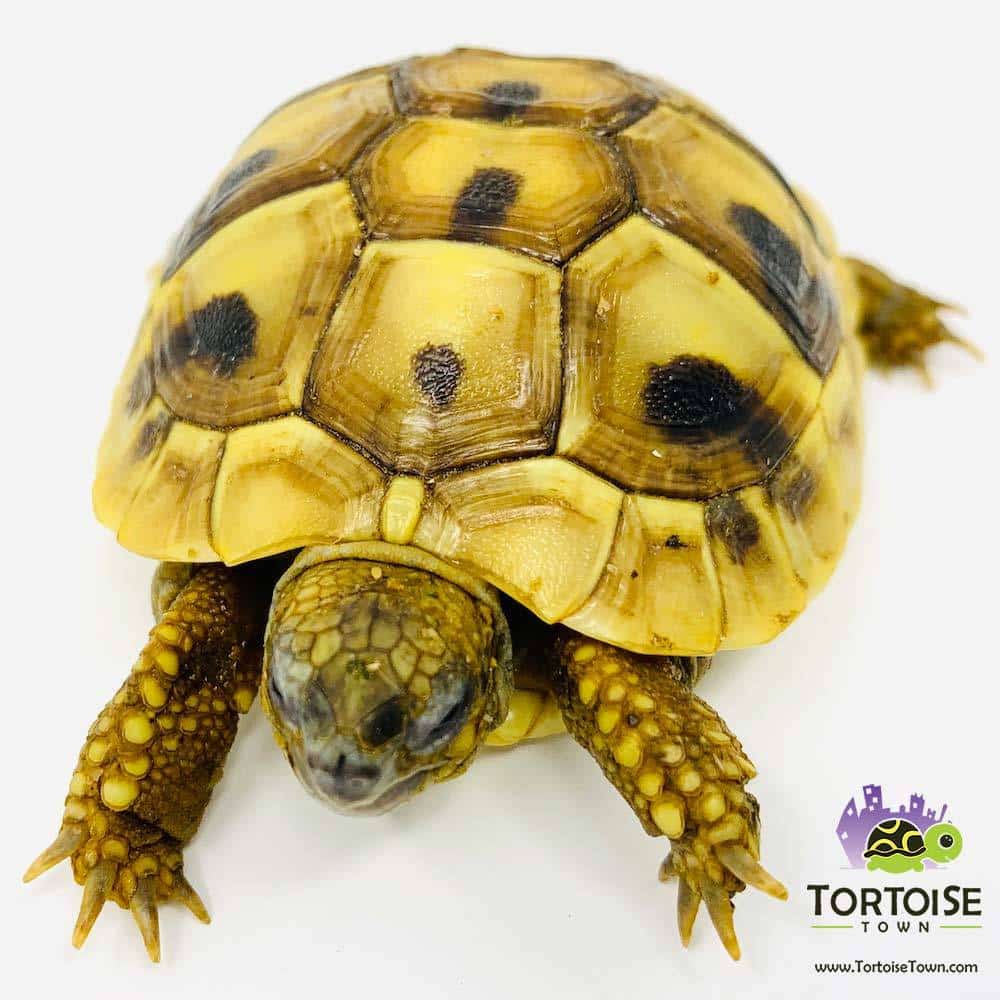 Hermanns tortoise for sale – Hermann's tortoise size:
The Eastern Hermanns tortoise for sale is noticeably both larger in size and darker in color.  Eastern Hermann's are more of a black to brown with some yellow.  Tortoise Town has an amazing group of brightly colored yellow Eastern Hermann's so baby Hermann's tortoises for sale here are going to be very colorful.   Typically, a baby Hermanns tortoise will reach a size of just about 7-9″. Larger is possible but very rare: some larger 10+" giant females have been found by collectors, though very rare.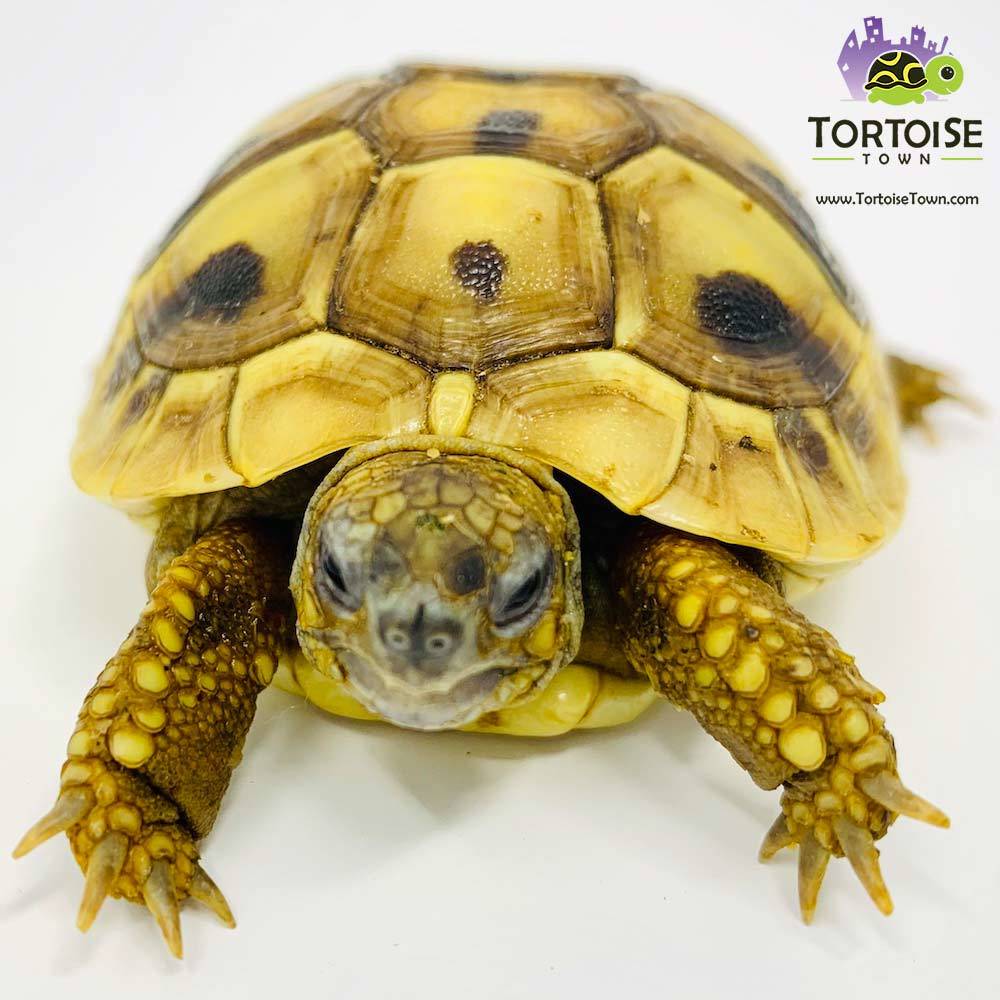 Western Hermanns tortoises are going to be much smaller.  A Western Hermann's tortoise typically will be just about 4-6″ at full maturity.   The coloration of the Western is much more bright. There is a nice contrast between a very black area next to the neon yellow/green color.  Western Hermanns tortoises for sale also have a very bright, near-neon yellow colored skin tone!
Hermanns tortoise for sale – Hermann's tortoise personality
One of our favorite tortoise species without a shadow of a doubt, the Hermann's are awesome little torts!  Outgoing, definitely NOT shy, Hermann's tortoise is a big package in a small shell.  We always recommend Hermann's over the Russian tortoise for sale, only because Russians are not as colorful, nor friendly.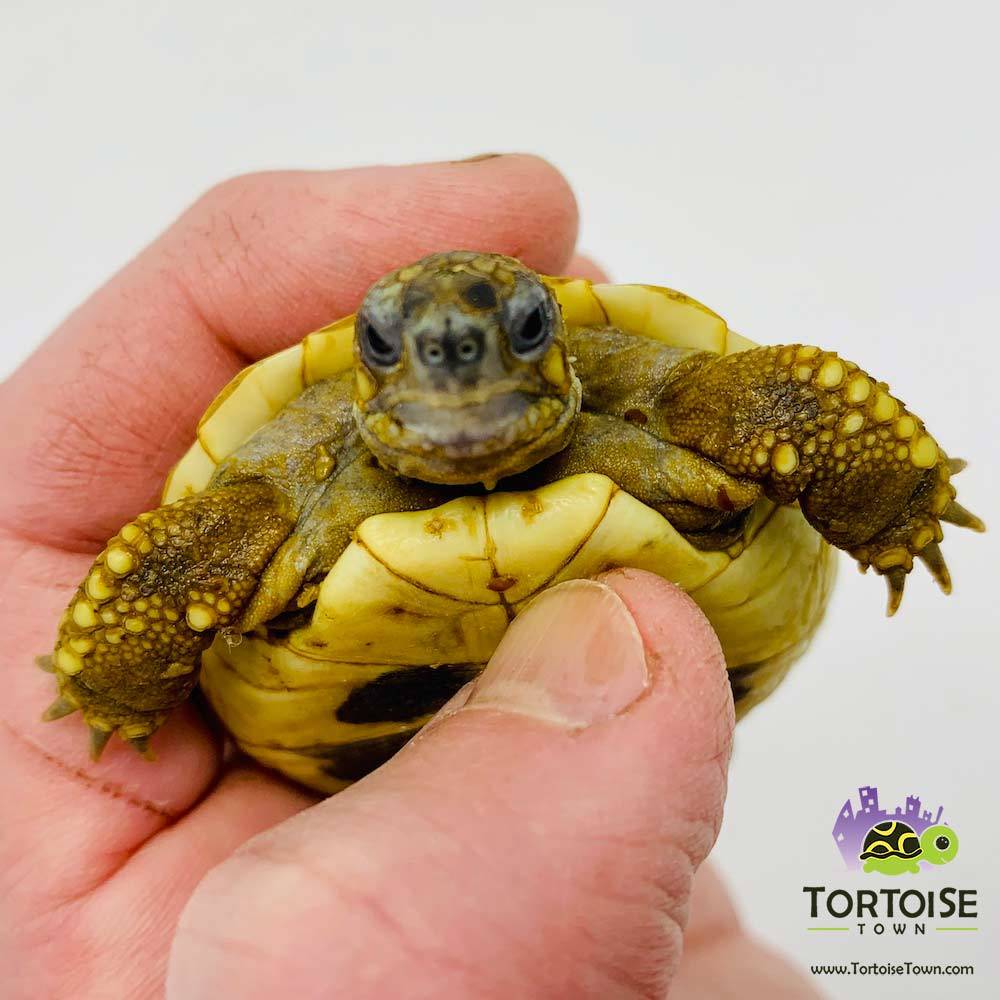 While Russians are great torts, the Hermann's to us, is just a better all around reptile family member.   Once well started, baby Hermann's tortoises for sale are relatively easy to care for, as easy as any tortoise species for sure.  If you are considering a small tortoise or any small tortoise breeds, definitely consider Hermann's tortoise.  Tiny tortoises for sale are an option as well, but they are going to be more expensive.  A tiny tortoise for sale, like an Egyptian tortoise, for example, is going to be around 800-1200.00.  The reason the smallest species of tortoise are the most money is that they only lay 1-2 eggs.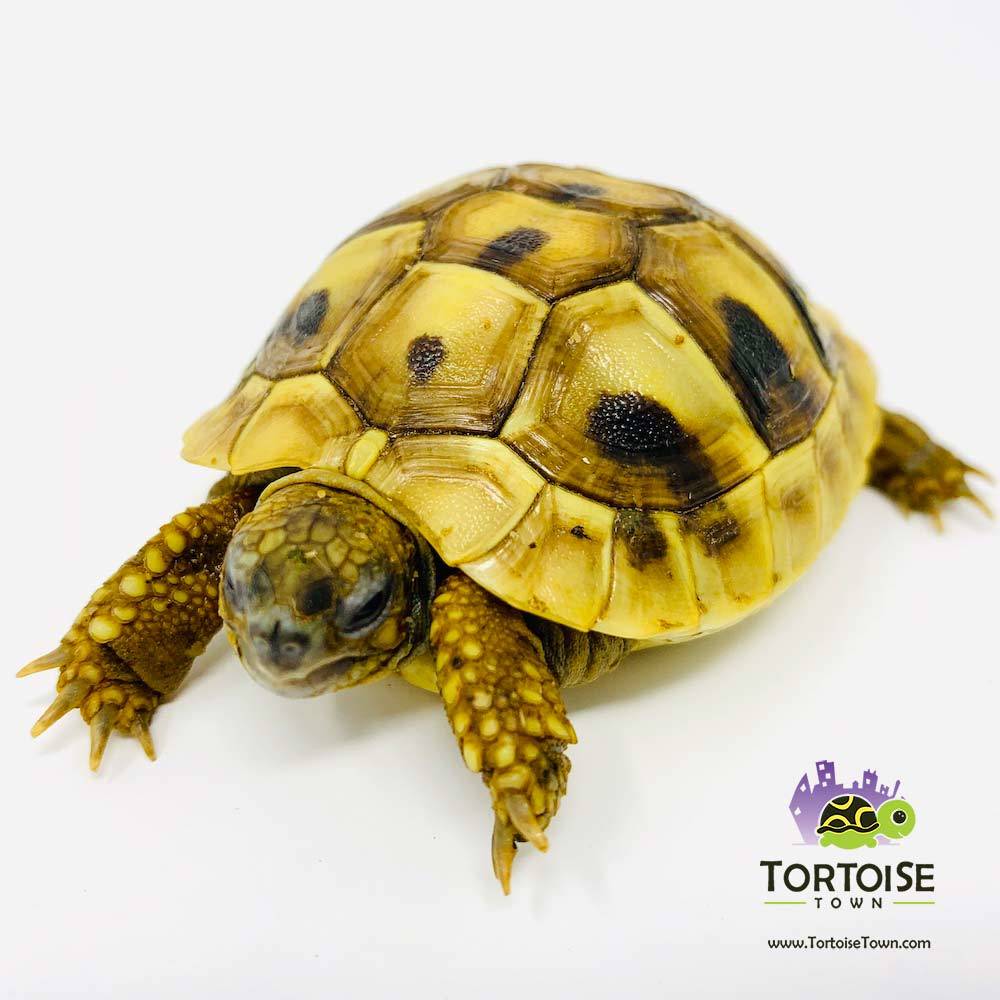 Hermann's tortoise lifespan
A well cared for baby Hermanns tortoise should live anywhere from 60-90 years.  There are instances of longer and shorter of course, but the average is around 75.  Not bad for a tort!  The key to a long life for your Hermann's tort is to provide high-quality food, always use the correct supplements (we use Vionate mixed 50:50 with Reptical with D3) dusting the food 2-3 times weekly.  Pay close attention to having that perfect 92-95 Degree hot spot) and keep your humidity 55-75%, and your baby Hermann's tortoise for sale will be off to a great start!
Eastern Hermanns tortoise for sale – Diet
Hermanns tortoise eats a variety of fresh and prepared food as options to provide a proper diet.  Our baby hermann tortoise for sale here at TT are fed a great variety, daily.  Our "tortoise chow" diet consists of chopped Collard Greens, Mustard greens, Romaine, Endive, Spring Mix, Squash, Shredded carrots, the occasional tomato and soaked and softened Marzuri tortoise chow.  The key to having the best diet is the chop and toss it all together.  Tossing it together will ensure your tortoise is getting a balance varied of food.  Enabling them to just "eat what they want" by placing a few things on top of one another is not recommended.
Hermann's tortoise for sale – Supplements
Providing your new baby hermann tortoise with the best food is not all! Supplements play a key role in the proper growth and development of your new baby tortoise. This is especially true when we are keeping our tortoises indoors.  Provide proper minerals and vitamins dusted on top of the food twice weekly.  Using a reptile vitamin like reptivite is recommended to be mixed 50:50 with reptile calcium.  For indoor tortoise habitat, we recommend using the calcium that also has Vitamin D3.  Using a supplement that has both calcium AND vitamin D3 will be best when your tort is kept indoors.
Eastern Hermann tortoise – Temperature
Temperatures should be the same for baby Hermann's tortoise for sale as well as adult Hermann's tortoises.  Ambient temps should be in the 82-84 range during the daytime.  Nighttime temperatures should not go below 75 for babies and not lower than 70 for adults.  Hibernation is totally optional for Hermann's tortoises for sale so do not think you need to do it.  For breeding, it is believed that hibernation does increase the virility of the male Hermanns.  Hot spots in the neighborhood of 92-94 should be provided during the day time hours.
Hermann tortoise for sale – Humidity
Baby Hermann tortoise for sale will need higher humidity than adults.  Here at the farm, we raise our baby tortoises for sale with 75-80% humidity for the first 18 months of life.  Keeping the correct humidity will not only raise a healthy tortoise, but the shell will also be perfectly smooth.
Hermann's tortoise hatchlings for sale
All of our Hermann's tortoise hatchlings for sale come with our live arrival and 7-day guarantee.  Our baby Hermann's tortoise hatchlings are 100% captive-bred like all tortoises for sale here at the farm.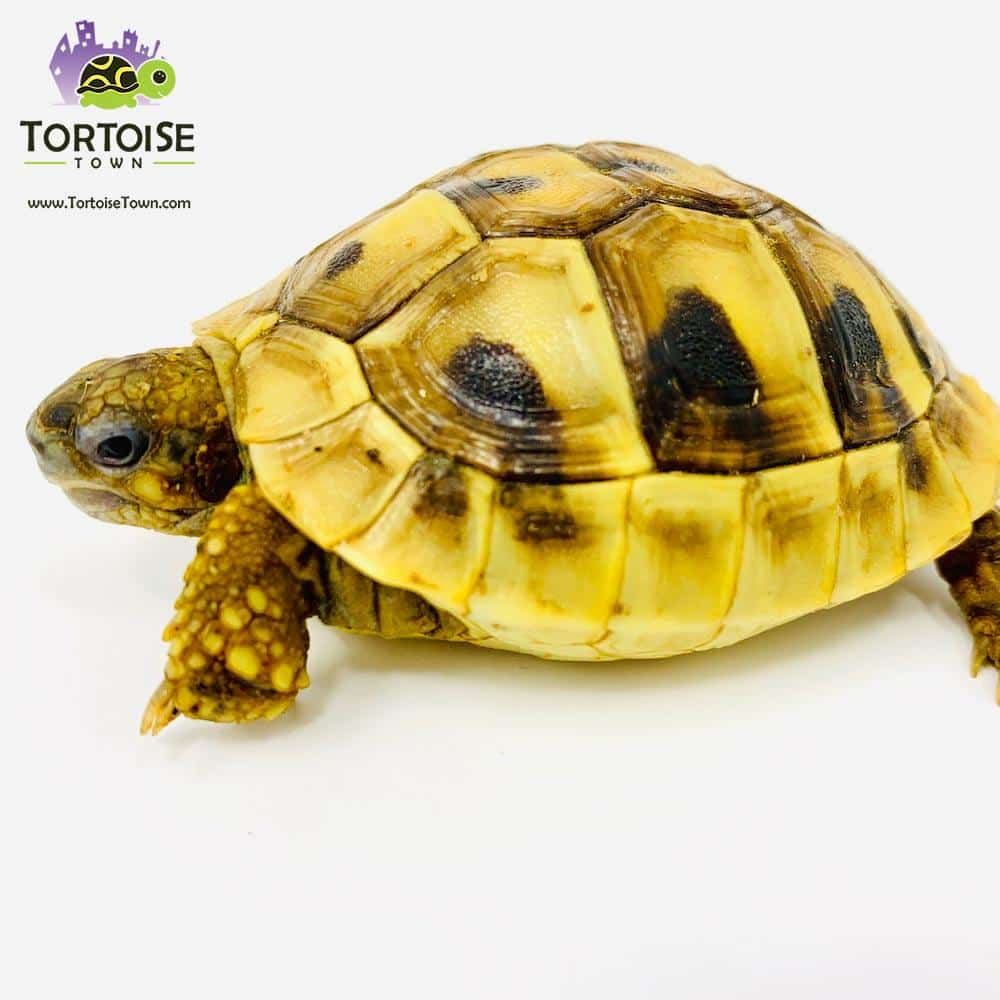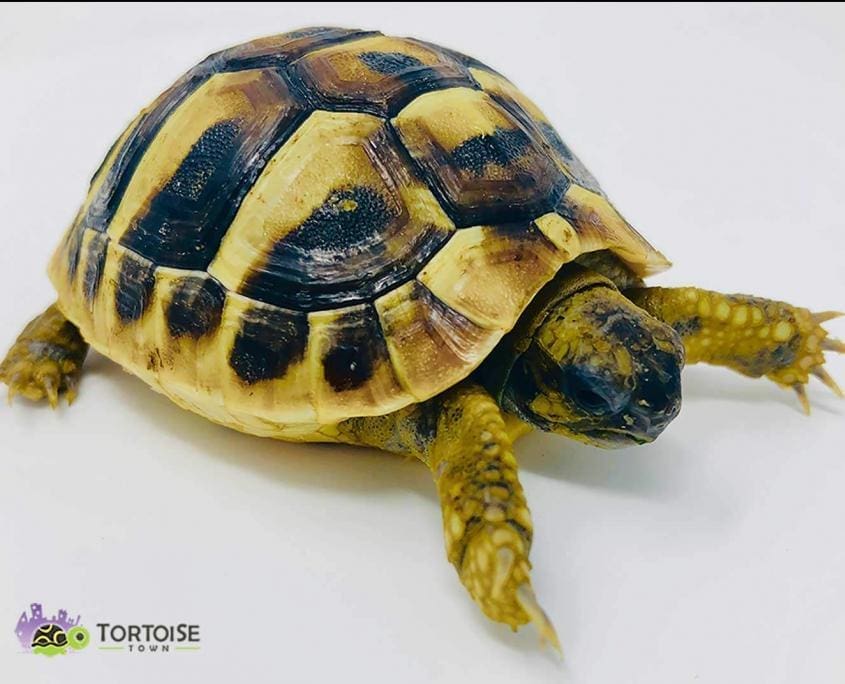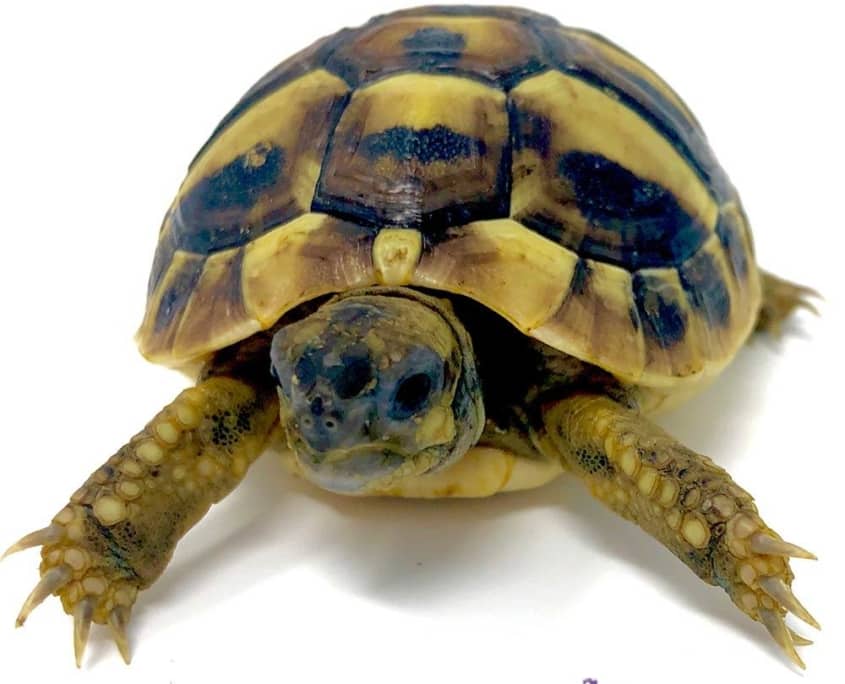 Eastern Hermann's tortoises are the most popular tortoises in the Testudo tortoise family.  Testudo tortoises primarily live in Europe, and some stretch as far as Kenya.  The Hermann's tortoise is divided into two major subspecies