Description
Eastern Hermann's tortoises for sale
The Hermann's tortoise for sale is one of the most popular species of tortoise for sale in the world.  Hermann's tortoises are small, super cute, and inquisitive.  Baby Hermann's tortoises are unlike many other species of tortoise as they are not one bit shy.  It is common for a baby Hermann tortoise to eat from your hand, without any training necessary.  We have baby Hermann's here that have eaten from our hands starting from hatch!  Both the Eastern and Western Hermann's tortoise make excellent additions to any reptile family, however, there are some discernable differences.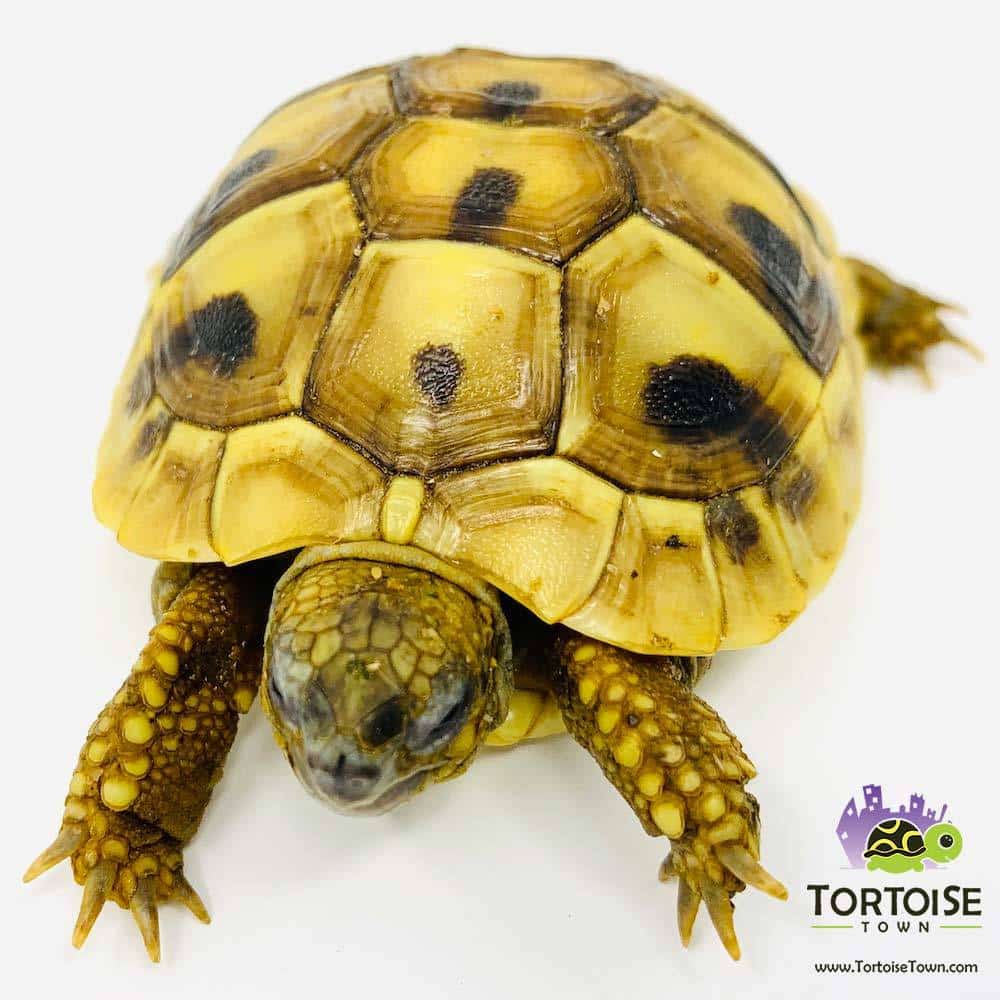 Hermann's for sale – Hermann's tortoise size:
The Eastern Hermann's tortoise for sale is noticeably both larger in size and darker in color.  Eastern Hermann's are more of a black to brown with some yellow.  Tortoise Town has an amazing group of brightly colored yellow Eastern Hermann's so baby Hermann's tortoises for sale here are going to be very colorful.   Eastern Hermann's tortoises will reach a size of just about 7-9″. Larger is possible but very rare: some larger 10+" giant females have been found by collectors, though very rare.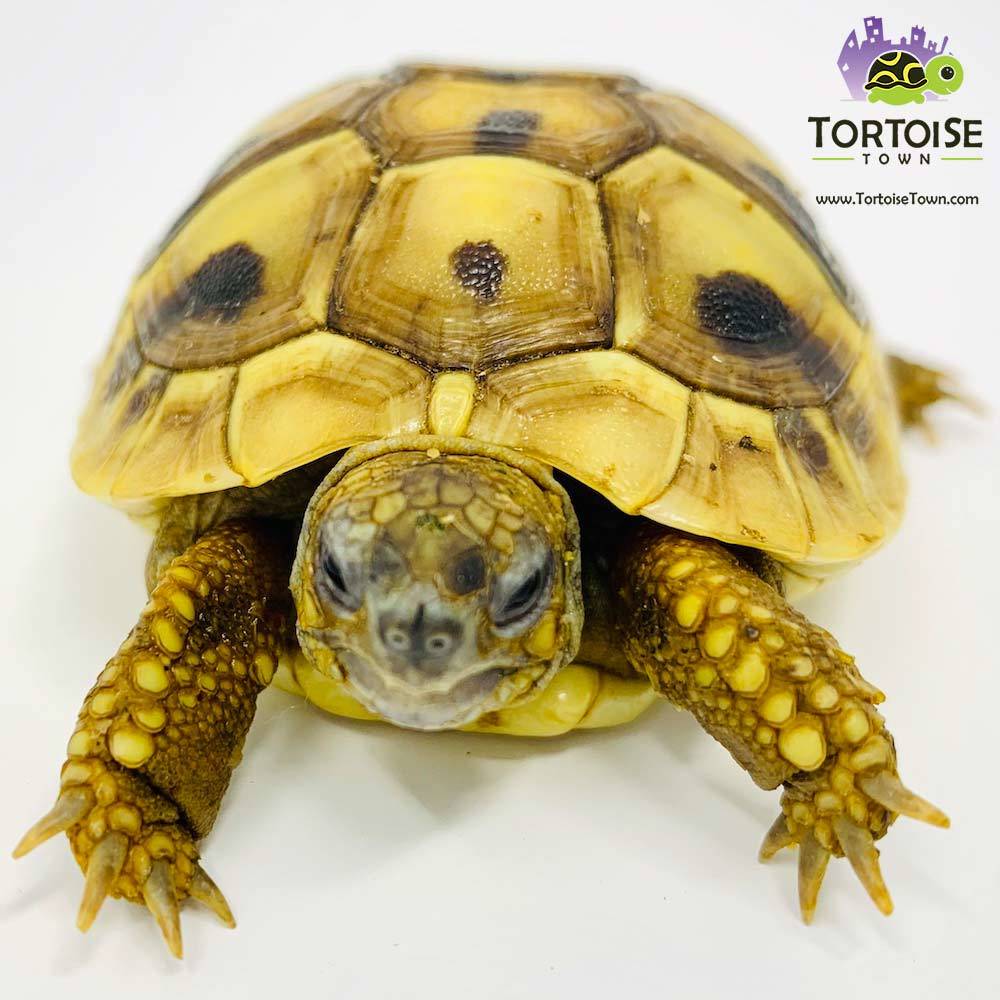 Western Hermann's tortoises for sale are going to be much smaller.  A Western Hermann's typically will be just about 4-6″ at full maturity.   The coloration of the Western is much more bright. There is a nice contrast between a very black area next to the neon yellow/green color.  Western Hermann's also have a very bright, near-neon yellow colored skin tone!
Hermann's tortoise for sale – Hermann's tortoise personality
One of our favorite tortoise species without a shadow of a doubt, the Hermann's are awesome little torts!  Outgoing, definitely NOT shy, Hermann's tortoise is a big package in a small shell.  We always recommend Hermann's over the Russian tortoise for sale, only because Russians are not as colorful, nor friendly.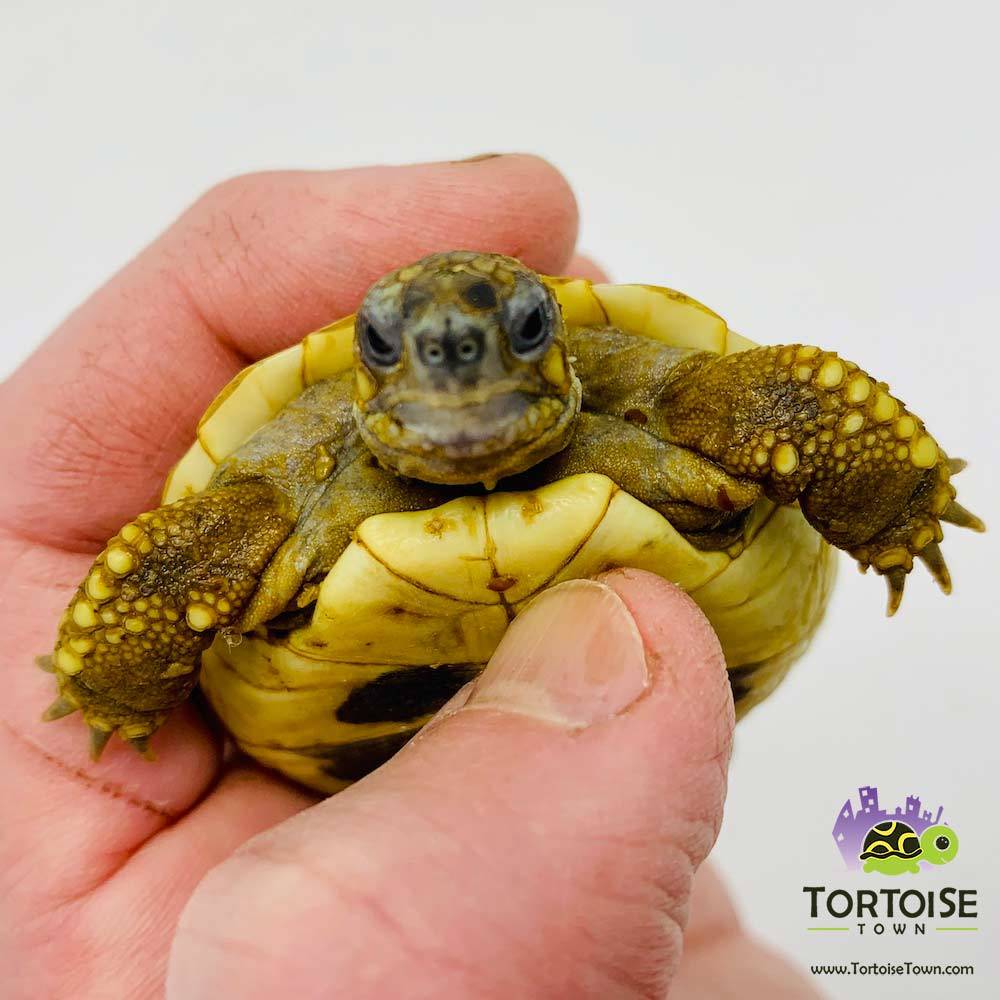 While Russians are great torts, the Hermann's to us, is just a better all around reptile family member.   Once well started, baby Hermann's tortoises for sale are relatively easy to care for, as easy as any tortoise species for sure.  If you are considering a small tortoise or any small tortoise breeds, definitely consider Hermann's tortoise.  Tiny tortoises for sale are an option as well, but they are going to be more expensive.  A tiny tortoise for sale, like an Egyptian tortoise for example, is going to be around 800-1200.00.  The reason the smallest species of tortoise are the most money, is because they only lay 1-2 eggs.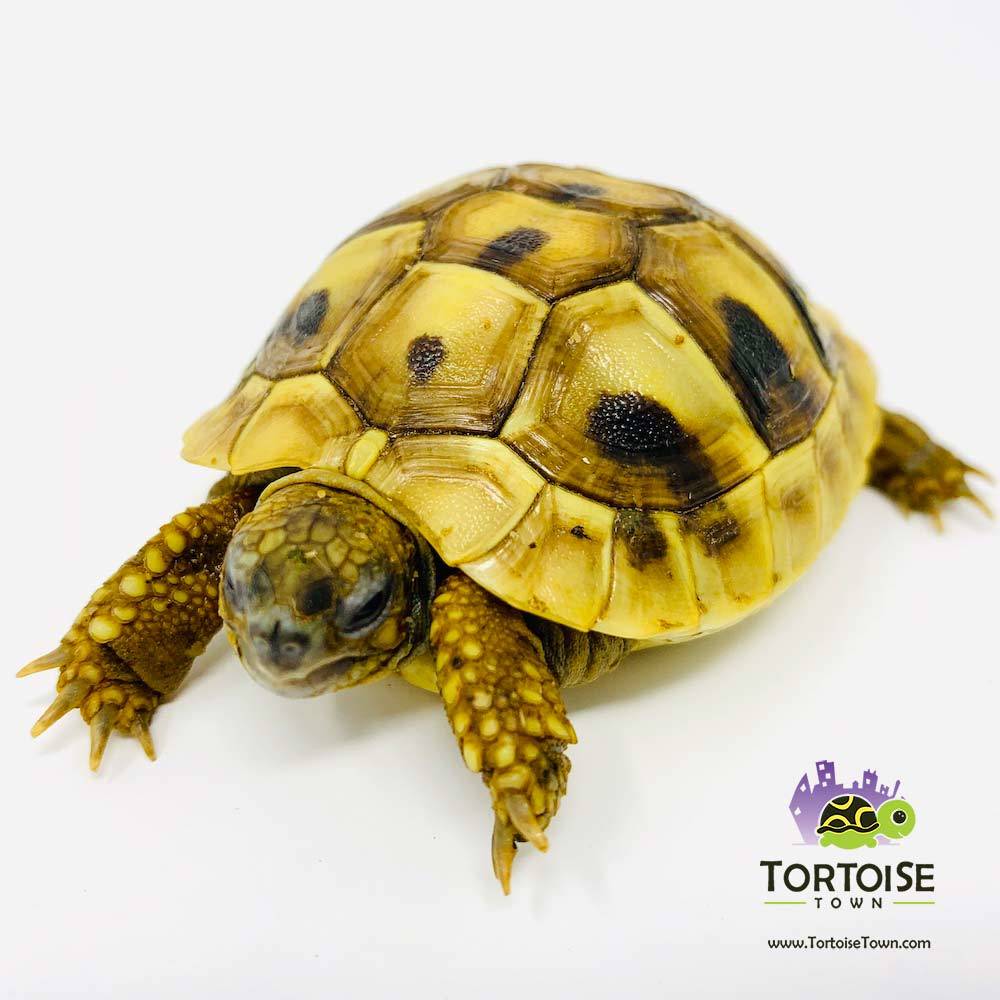 Hermann's tortoise lifespan
A well cared for baby Hermann's tortoise for sale should live anywhere from 60-90 years.  There are instances of longer and shorter of course, but the average is around 75.  Not bad for a tort!  The key to a long life for your Hermann's tort is to provide high-quality food, always use the correct supplements (we use Vionate mixed 50:50 with Reptical with D3) dusting the food 2-3 times weekly.  Pay close attention to having that perfect 92-95 Degree hot spot) and keep your humidity 55-75%, and your baby Hermann's tortoise for sale will be off to a great start!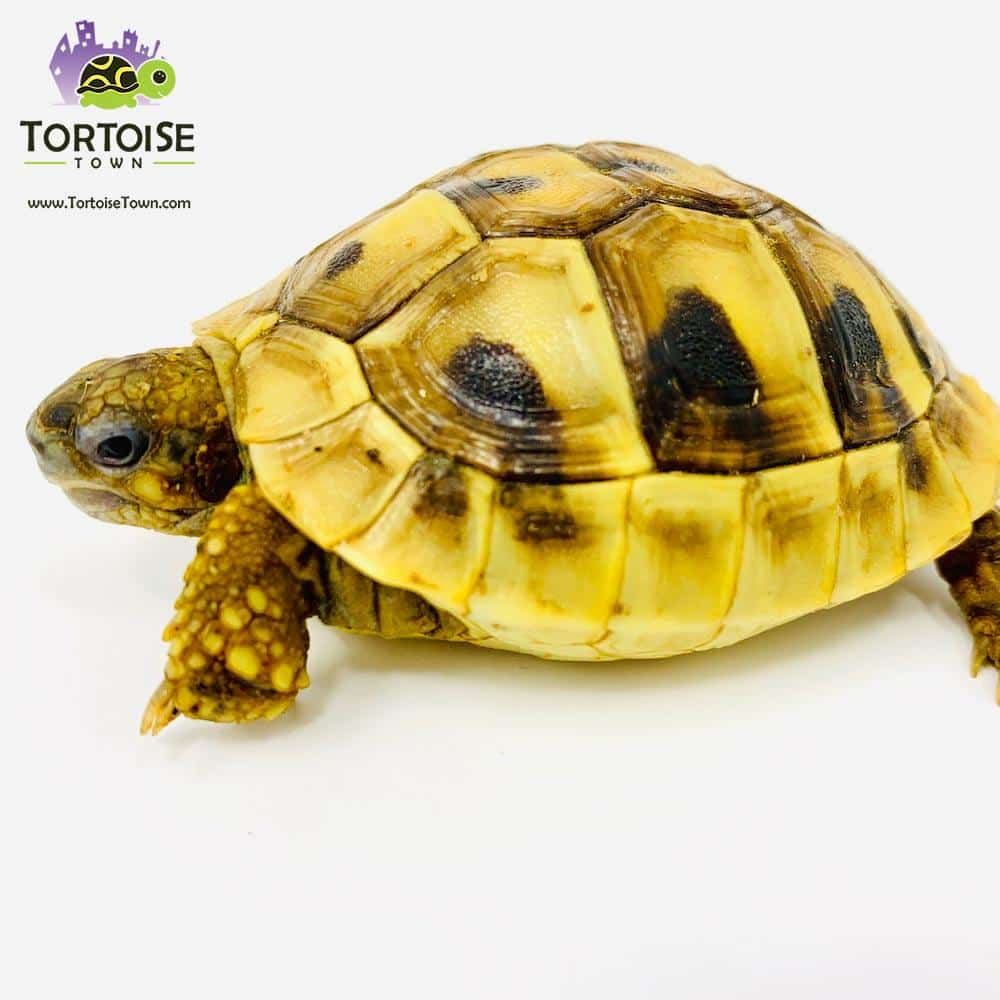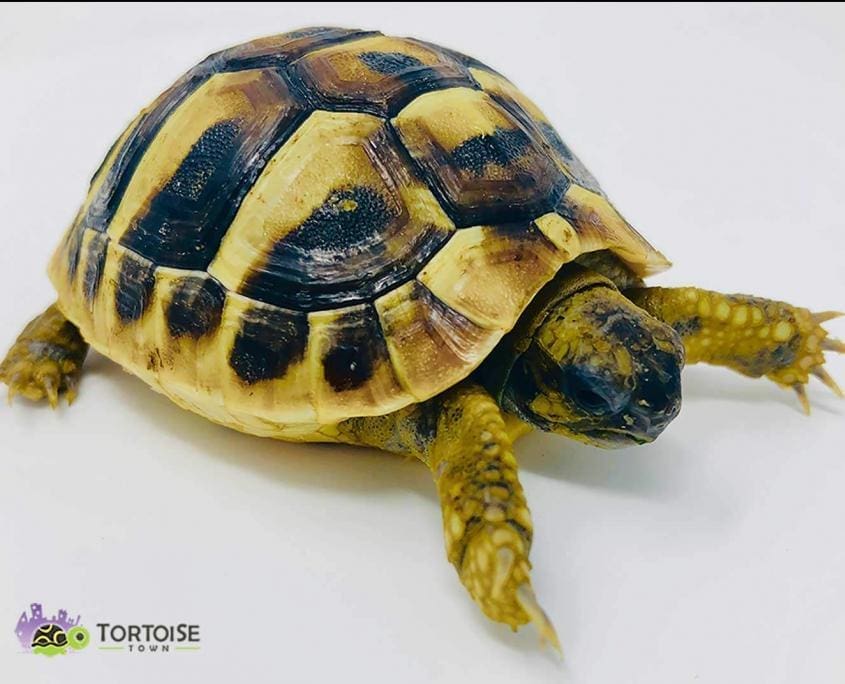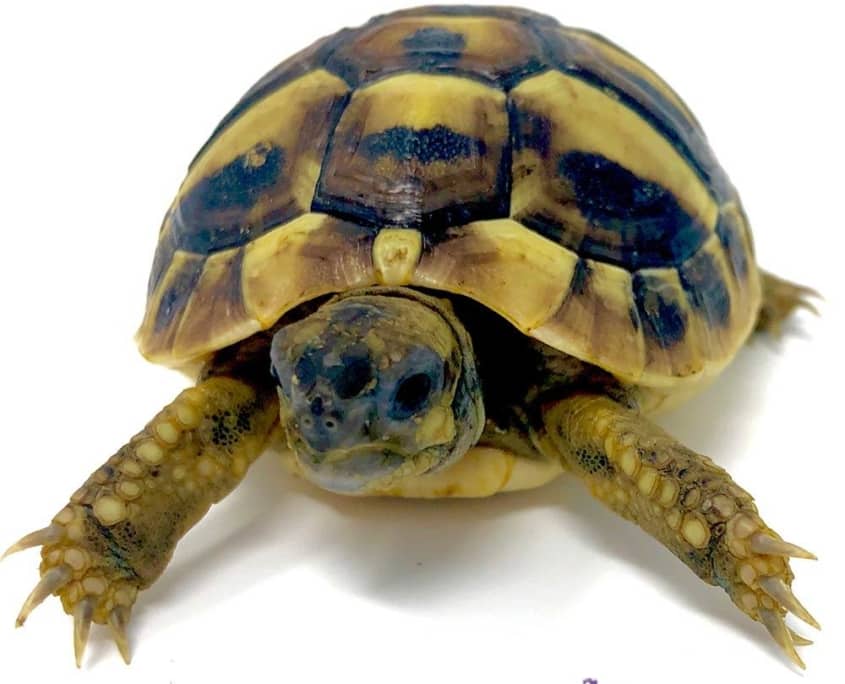 Eastern Hermann's tortoises are the most popular tortoises in the Testudo tortoise family.  Testudo tortoises primarily live in Europe, and some stretch as far as Kenya.  The Hermann's tortoise is divided into two major subspecies