Description
Our decorative TETRA REPTOFILTER for turtles, newts, frogs and more is a beautiful piece that is very easy to use. There is a whisper filtration, holes to prevent clogs, a locking cover for the safety of your animals, and access for easily replacing the bio-bags for an odor-free tank this piece here has an amazing naturalistic feel to it that your animal will enjoy for years to come. "The Tetra fauna Decorative Repto Filter instantly creates a beautiful waterfall and basking area for newts, frogs, and turtles in any aquarium from up to 55 gallons. Integrated three-stage Whisper filtration which uses easily replaceable Bio-Bags keeping water clear and odor free. Large intake holes prevent clogging. Locking cover keeps animals out of the filtration area and provides an ideal basking area. Realistic rock decor with waterfall".
Looking for even more supplies? Check out our full online reptile store, over at CB Reptiles! We have everything that you need for your tank and more.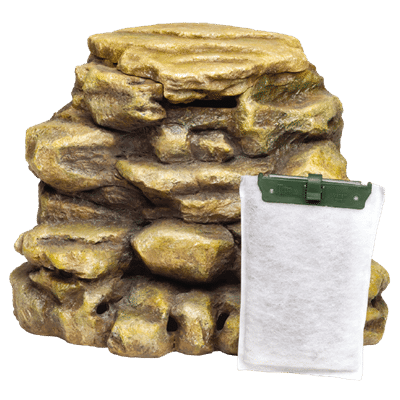 Decorative Tetra Reptofilter for Turtles and Frogs for sale online
Our supplies are all you need for your animal to live a happy and hearty lifestyle. We take pride in all that we sell and those we take care of for all of your trusting needs. Decorative Tetra Reptofilter for Turtles and Frogs will exceed your expectations. Order today for delivery asap.
Feel free to reach out at any time!