Description
Sulcata tortoise for sale
African Sulcata tortoises for sale are some of the most popular species of tortoise for sale in the world.  Growing quickly and producing a high quantity of eggs per clutch, a baby Sulcata tortoise is also affordable.  When compared to other species of baby tortoises for sale, the Sulcata is usually less expensive.  Here at Tortoise Town, we've got some beautiful captive-bred African Sulcata tortoise hatchlings for sale.  Tortoise town offers baby Sulcata hatchlings, well-started babies, juveniles and adults.  Lastly, all of our tortoises are 100% captive bred, and never wild-caught.  Our baby Sulcata for sale are literally the nicest in the entire country!
African Spurred tortoise for sale
If you're looking for a baby spurred tortoise for sale, tortoise town is your spot!  Most importantly, all of our baby African spurred tortoises come with our live arrival guarantee.  Secondly, all of our baby Sulcata tortoises also come with our full health guarantee. With a real animal Biologist, ON-SITE, shop with confidence that your new African Sulcata tortoise for sale will arrive bright-eyed, healthy and active.
Baby Sulcata tortoises for sale
In addition, all of our baby African spurred tortoise for sale come with all the free support you need to learn proper care.  Also, not all baby Sulcata tortoise hatchlings for sale are the same! Here at TT, we do not offer "b grade" or "c grade" Sulcata tortoises like most other online Sulcata tortoise breeders!    Yes if you are searching for a cheap Spurred tortoise, or a baby Sulcata we have the best baby tortoise prices online as well!
Sulcata tortoise hatchlings for sale
    Sulcata tortoises for sale are sometimes referred to as African spurred,  and just spurred tortoises. As recently as a few decades ago Sulcata tortoises were rare in the United States.  However, they have shown an amazing ability to adapt to various climates and habitats in captivity.  This, coupled with their low cost combined with a curious personality make them very popular large tortoises that are commonly sought after by first-time tortoise owners.  Sulcatas have great personalities and can make great additions to any reptile family.  Keep in mind, however, that these guys get big.  If you are in an area where you need to bring your new tortoise indoors during the winter, consider a smaller species.  Slightly smaller African tortoise species include the leopard tortoise and the Giant South African leopard tortoise.
baby Sulcata for sale
Tortoise Town has a fantastic African Sulcata tortoise care section as well as Sulcata tortoise diet information.  If you're looking for baby Sulcata tortoise habitat or Sulcata tortoise enclosure information, visit our care section.  It is a good idea to do your Sulcata tortoise care-related research prior to purchasing your new baby Sulcata tortoise for sale.
Sulcata tortoise for sale
In nature, we can find the Sulcata anywhere in Sub-Saharan African including the most sparse areas.
African Sulcata tortoise Lifespan: 
Did you know that the Sulcata tortoise lives anywhere from 80-100 years?  A long-lived animal, the African Spurred tortoise will possibly outlive its' owners.  For this reason it is imperative that you consider this when making your purchase.  The tort will also grow quite large, within 4-5 years and therefore its' adult size need be considered when building out the habitat.
Baby Sulcata Size:
A very large tortoise, the African Sulcata is the 3rd largest in the world growing from 24 to 30 inches.  Sudanese tortoises actually get even larger with some reaching 36″!
Sulcata tortoise for sale
Often with an African spurred tortoise, males are much larger than female Spurred tortoises for sale. The adult male Sulcata tortoise has a deep concavity in the posterior half of plastron.  Also, the male African Spurred tortoise has long, thin tails tipped by a horny curving spur. Secondly, female Sulcata tortoise for sale has a more rounded appearance.  Because female Sulcata tortoises have features that are not so exaggerated and a short, blunt tail. Also, adult Sulcata tortoises' carapace is a uniform brown. Lastly, the plastron, head, and limbs are a uniform yellowish. In contrast, juvenile Sulcata for sale have a pale yellow carapace with brown on the scutes, a yellow-white plastron and lighter areoles on the carapace plates.
baby Sulcata tortoise for sale – habitat: 
Due to their large size, housing a baby Sulcata tortoise inside can be quite impractical once it is full grown. Please consider this carefully prior to purchasing. Here at Tortoise Town, we believe the most useful form of indoor tortoise habitat for a Sulcata tortoise hatchling is a tortoise table.  We offer a full complete tortoise habitat kit, available here. A reasonable size for a Spurred hatchling is 2 foot by 2 foot, however, Sulcata tortoise hatchlings will outgrow this very quickly (at 3 years old they can exceed 12 inches).  We recommend purchasing this before purchasing an African tortoise for sale. (baby spurred tortoise for sale)
baby Sulcata for sale
As the baby Sulcata tortoise grows the size of its habitat needs to be increased. Also, holes can be cut into the bottom of your tortoise table to allow for the sinking of food and water dishes, making them flush with the surface for easier animal access.
Use a water dish in the Sulcata tortoise habitat should be large enough to allow the tortoise to soak in, whilst remaining shallow enough to protect from drowning. For an adult African Spurred tortoise or baby Sulcata tortoise for sale, the indoor habitat should be at least 8 foot by 8 foot! An outdoor heated shed or greenhouse is sometimes a better option for a spurred tortoise for sale.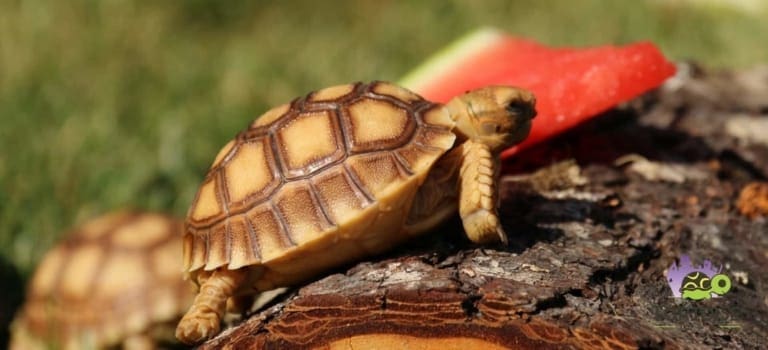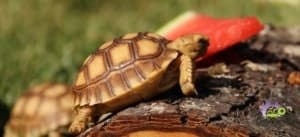 Juvenile Sulcata tortoise for sale temperature
Keeping your Sulcata happy and healthy also includes having the proper temperatures in your enclosure. Offering a gradient that varies from 82-99 during the day is perfect.  Nighttime temps should be in the 77-82 range.  Keep in mind that the basking area should always be in the neighborhood of 94-99 though it can cool down in the evenings.  Sulcata for sale like all tortoises need to thermoregulate.  In order to allow your tortoise proper thermoregulation, providing a gradient of temperatures is key.
baby Sulcata for sale humidity
Humidity is a huge part of raising a healthy baby Sulcata tortoise for sale.  Baby Sulcata for sale require higher humidity as a rule of thumb when compared to adults.  Not only is humidity responsible for proper shell growth and overall appearance, but it is also pivotal for survival.  When tortoises are kept in areas that are much too dry, they eventually will die from dehydration.  Even if you soak your baby tortoise daily, if the humidity is kept below 50%, you will see your animal decline within a few weeks of arrival.  At tortoise town, we recommend using 4″ of a substrate which allows you to spray it down with water each morning.  By spraying the substrate, you are able to create a humid "micro-climate" for your baby Sulcata for sale tortoise to bed down into.
Baby and Juvenile Spurred tortoise diet
Feeding a high-grade diet of a wide variety of greens and veggies are recommended.  If you were asking yourself what do I feed a Sulcata tortoise? or What is proper Sulcata tortoise diet? You've come to the right spot!  We chop and combine fresh greens and veggies daily and feed 5 days a week.  Tortoise town uses Collard, mustard and beet greens.  Also, we use Romaine, Kale, Spring Mix, Soaked and softened Mazuri tortoise chow, Squash, tomato, and zucchini.  Baby Sulcata enjoy a wide variety of greens, veggies and weeds.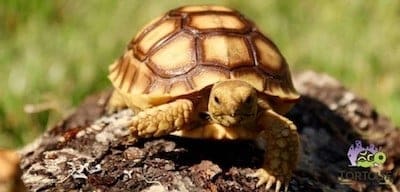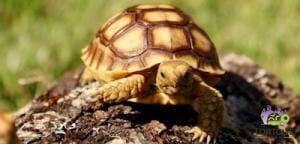 baby Sulcata tortoises for sale – supplements
Calcium and supplements including vitamin D3 are important and should be dusted or sprinkled on food twice a week.  It is important to be sure you are giving your tortoise adequate UVB exposure as well so they can produce and metabolize Vitamin D3.  Without providing access to UVB, your tortoise will not be able to digest or metabolize the calcium you add to its food!  Tortoise town uses a 50:50 mixture of calcium with D3 and Vionate multivitamin and dusts our food twice a week.
baby Sulcata tortoise water
Always provide your baby Sulcata ample access to water.  Soaking your tortoise daily should be done every day until 24 months of age for 5-10 minutes OR until your tortoise poops.  Whichever comes first ends the bath time!  Be sure to use VERY shallow water. Even 15 seconds in deep water will kill your new tortoise quickly!
baby Sulcata for sale – Sulcata tortoise Size
African Spurred tortoises are large animals.  They are the 3rd largest tortoise in the world!  Adult Sulcata tortoises reach sizes of 24-28″ and up to 150 lbs.  Depending on the age selected, baby Sulcata tortoises from tortoise town arrive as hatchlings, or well started babies and grow slowly.  At 10 years of age, Sulcata are normally 10-12″ and 30-40 lbs.  Sulcata tortoises are large and in charge.  If you are considering a spurred tortoise for sale, but they are a little too large, check out the leopard tortoise for sale.
Sulcata love to graze in the yard!
During hot summer days allow your baby Sulcata to roam in a predator-free enclosed garden. Because of their large size and grazing habits, these tortoises will greatly benefit from being outdoors when the climate allows it. Ensure that there is adequate shade, hiding spots, and access to a shallow dish of water. A dry grassy area is ideal for your new hatchling Sulcata tortoise to graze. These large tortoises need a sturdy fence that extends underground due to their tendency to burrow. Daytime temperatures can be up to 100 F and nighttime temperatures should not drop below 75 degrees F.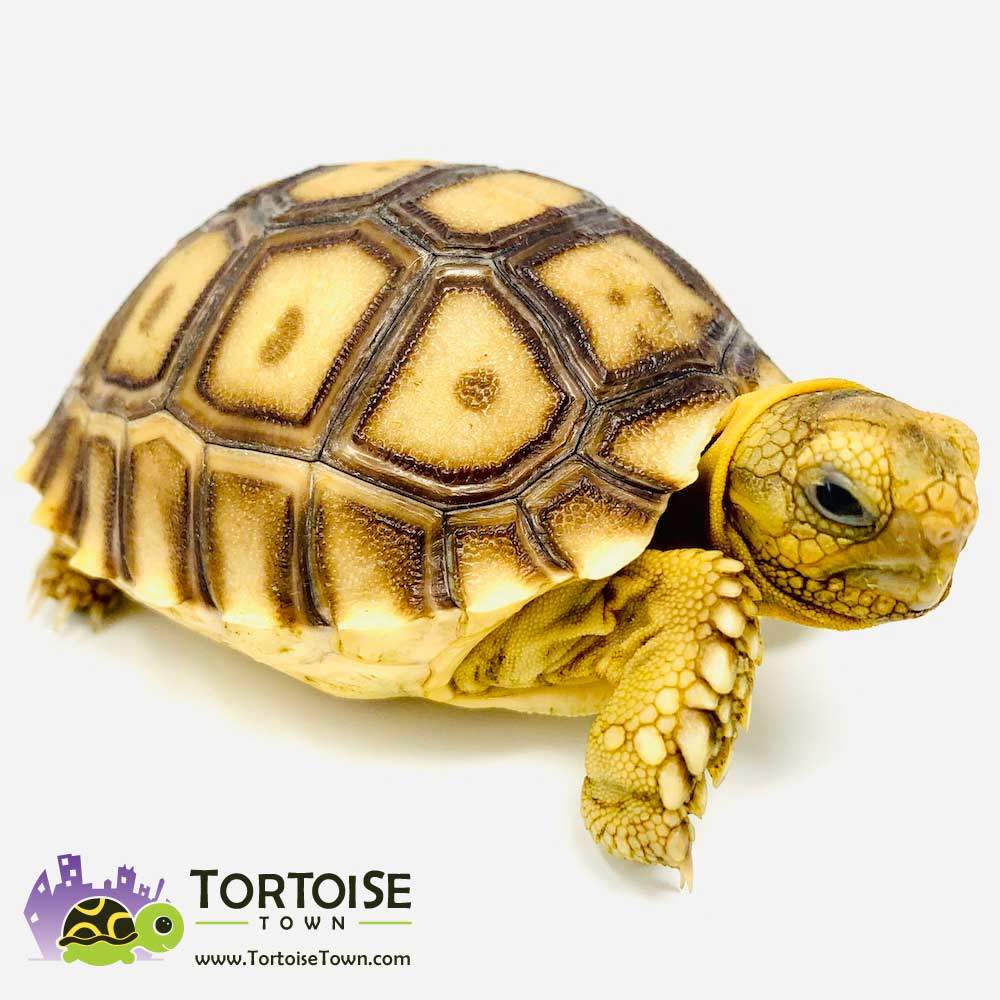 baby Sulcata tortoise for sale – Water
Provide a shallow water dish for your baby Sulcata tortoise A shallow dish of water should be provided at all times, and a muddy wallow may be used as well.  If you're looking for other reptiles for sale, be sure to check out our sister site. Also offering baby tortoise for sale as well as adult and juvenile tortoises for sale cheap.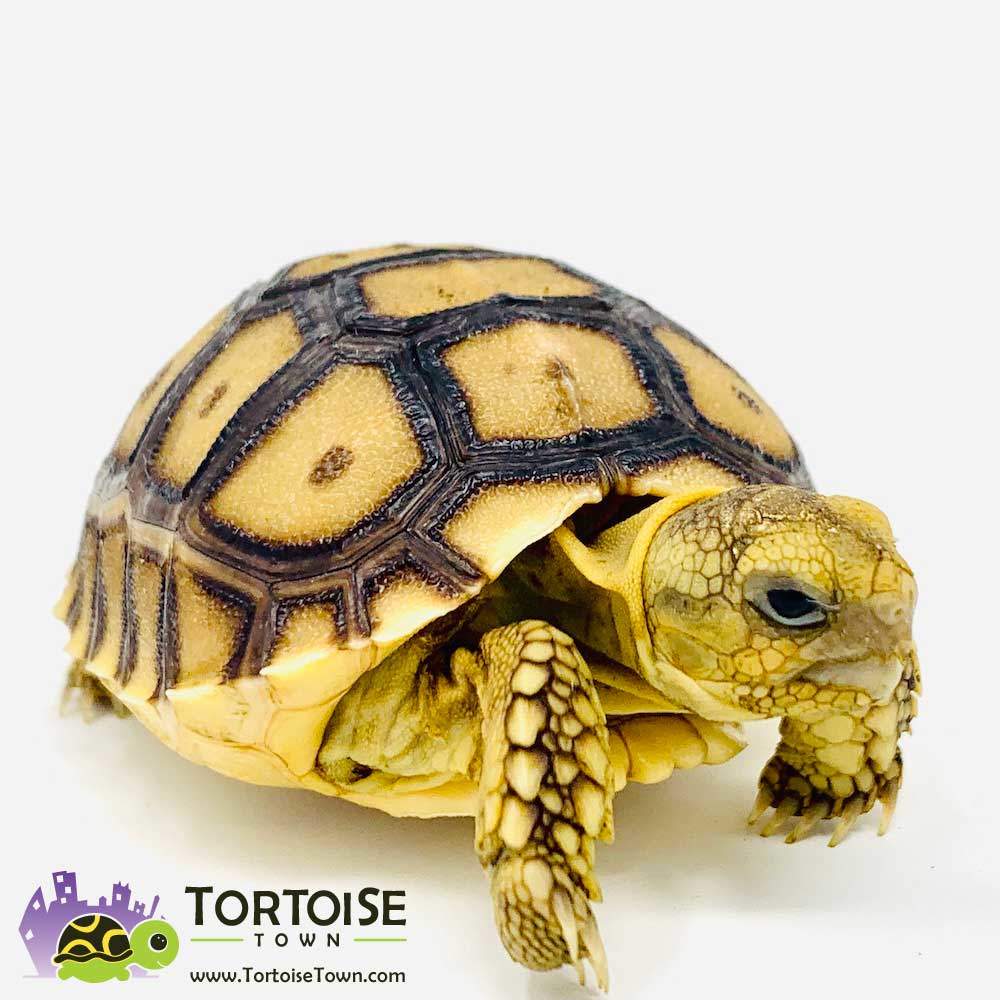 Explore our extensive Sulcata tortoise care section
baby African Sulcata tortoise for sale near me
Baby African Spurred tortoises for sale grow fast and are relatively easy to care for.  There are a few sizes of Sulcata tortoise range from Sulcata tortoise hatchlings for sale to adult Sulcata for sale.  Our baby Sulcata tortoise hatchlings for sale offer vibrant color and are extremely healthy, fed a variety of greens, cactus, and tortoise chow as well as being soaked daily. Well-started babies and further along and just easier to care for in general.  We also offer juvenile spurred tortoise for sale and adult Sulcata.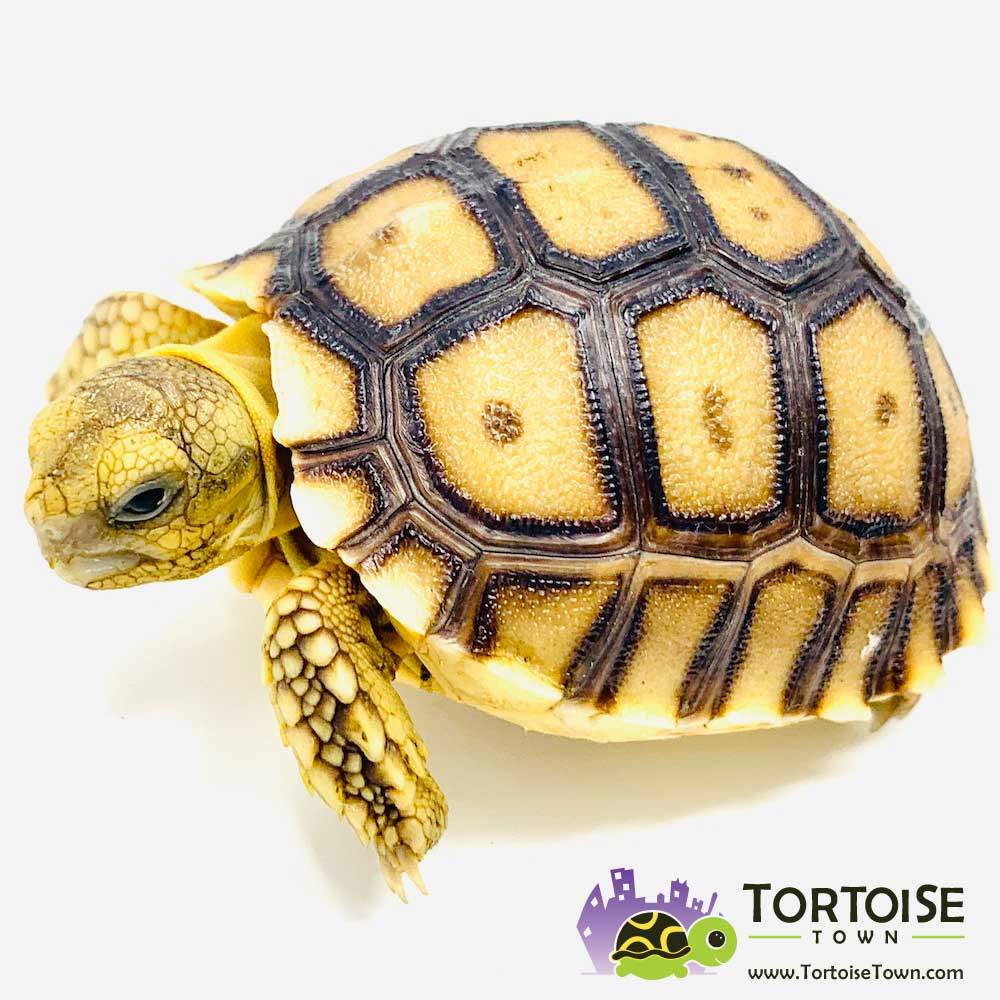 baby Sulcata tortoises
It is imperative that you choose reputable captive-bred Sulcata tortoise breeders when purchasing your new baby Sulcata tortoise for sale (remember you get what you pay for!)  We are proud to say we offer some of the nicest African Spurred tortoise available in the US at some of the best prices!  With a BIOLOGIST ON-SITE, our Sulcata for sale (African Spurred tortoises for sale) are top-notch and ready to ship to you via FedEx or UPS Overnight in heated or cooled insulated shipping containers.  Once shipped, packages leave here at 7 pm and arrive at your doorstep before 11 am.  One shipping charge a single tortoise for sale as well as covers up to 4 juvenile, adult or baby tortoise for sale.
 baby, Adult and Juvenile Sulcata tortoises for sale
We guarantee that you will absolutely love your new baby Sulcata tortoise so much, that you will want another soon after meeting him or her.  If you are considering a pair of baby Sulcata tortoises, keep in mind that females get along well, and if you are planning on keeping both male and female it is recommended to get 2 to 3 females for every single male.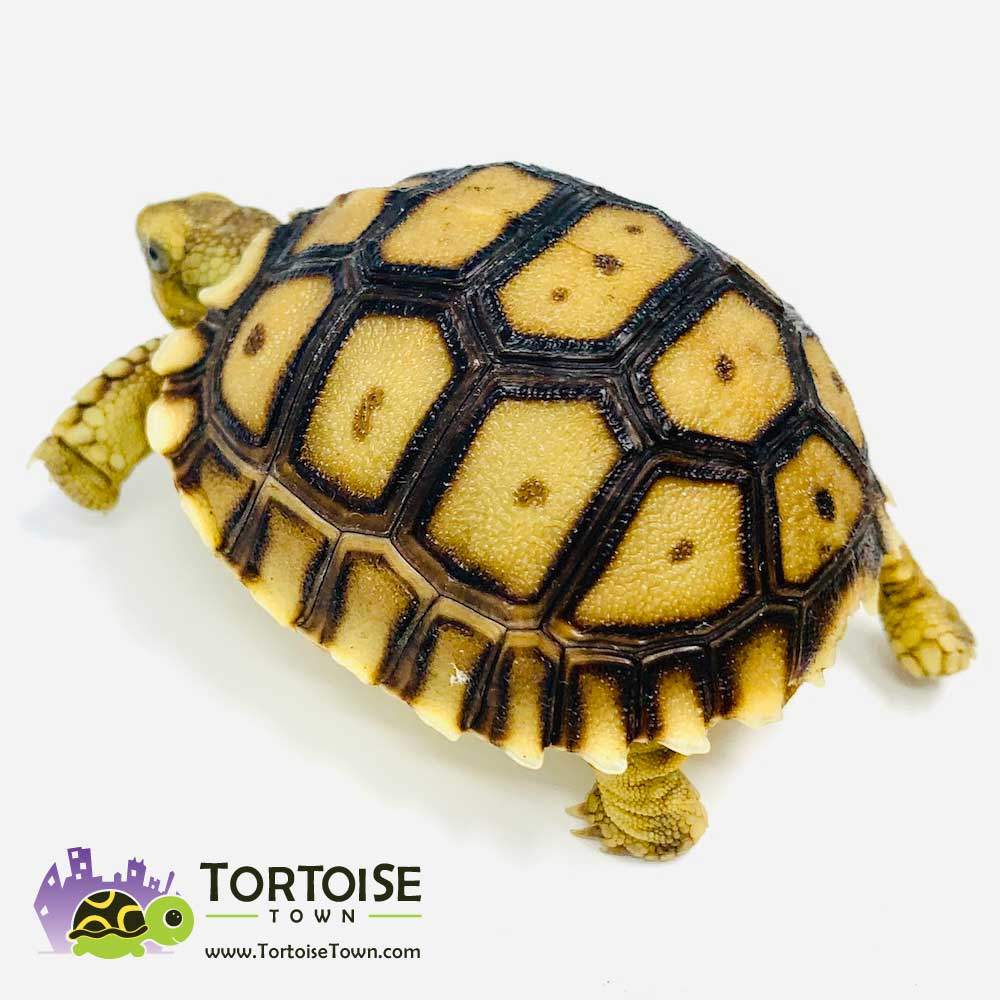 African spurred tortoise hatchlings
If you like the African Sulcata but think it is too big of a pet tortoise for you, consider another African tortoise, the Leopard tortoise.  Leopard tortoises only get about half the size of the African Sulcata tortoise, or African Spurred tortoise.  The leopard tortoises are a bit more expensive simply because of lower egg counts, and lesser supply of baby leopard tortoise for sale.  At Tortoise Town, we breed both leopard tortoise as well as the Giant South African Leopard tortoise.   Remember, one shipping charge covers up to 4 tortoises or turtles for sale!
baby Sulcata tortoise enclosure