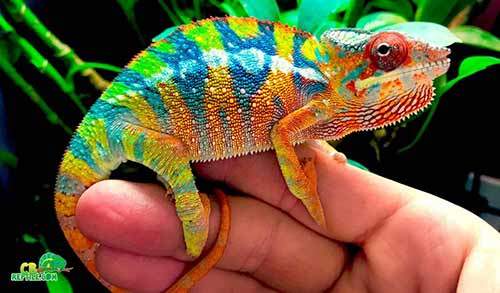 Panther Chameleon for sale
Looking for the nicest panther chameleon for sale online?
We've got everything from Nosy be panther chameleon as well as baby Nosy Be panther chameleons. Ambilobe panther chameleon to Ambanja panther chameleon for sale.  We also offer  Nosy Faly panther chameleon, Sambava panther chameleon, Pet chameleon for sale.  Secondly, consider the type of pet chameleon for sale you are looking for and if you plan on handling it or not.  Most importantly if you are looking for a pet chameleon that can be handled.  Because of their docile nature, the male panther chameleon for sale seems to make the best pet chameleon for sale.
Check out CB Reptile for an even better selection than here at Tortoise Town!
Cb Reptile has a full selection of chameleons for sale, including veiled chameleon for sale, panther chameleon for sale.  Above all, shop their wide selection of baby panther chameleon.  Panther chameleons for sale.  In contrast, baby panther chameleons are becoming more and more popular.  When looking for the best baby chameleon, find the best panther chameleon breeders.
Panther Chameleon Life Span
Panther chameleons can have a varied life span depending on the care they are given. Under good conditions, your panther chameleon should live 5 to 7 years.
Panther Chameleon Availability
Panther chameleons are commonly available from reputable breeders and can usually be found at local reptile shops, reptile shows or through the Internet. Ambilobes are the most common locale; however, others, such as Nosy Be, are becoming more widely available. Depending on their size and color, panther chameleons can vary in price.
Nosy Be panther chameleon for sale are some of the brightest of all panther chameleons for sale.  Tortoise town has a full selection of captive bred chameleons for sale, including both the veiled chameleon for sale and the panther chameleon for sale.
Panther Chameleon Size
Male panther chameleons typically have a body length of 12 to 18 inches while females are slightly smaller at 10 to 14 inches. A healthy male panther chameleon will average between 140 and 180 grams in weight, and a healthy female panther chameleon will weigh around 60 to 100 grams.
Panther Chameleons (
Furcifer Pardalis
)
Panther chameleons are one of the most colorful chameleon species available today. Native to Madagascar, they are able to turn a wide variety of colors depending on their locale or the area from which their line originated.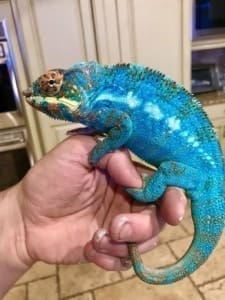 Display 15 Products per page